What you need to know about how Google implements Featured content including "snippets" for search results in 2021. Here is what they are, and how Google changed the game in January 2021 for search results.
Today, I was in a networking meeting and trying to explain how snippets worked to a small group of professionals. I went to Google and searched a term that I knew yielded a specific result a week ago, and it did not work the way it was supposed to. The gears in my head turned. I had checked to make sure that the result would be accurate, and it just wasn't the case. I knew something changed, and so to update my fellow entrepreneurs and to reiterate the Google is ALWAYS changing here is what happened.
Facts about SEO and Featured Snippets
When Google introduced the new "featured snippet" function in 2014 many called it the most prominent SERP change in a decade. It changed the way that developers and content producers looked at SEO strategy. It was a great way to secure the top spot on the page in the organic search results. It also prominently displayed your URL, and companies with great SEO strategy were often listed twice on the first page.
The question "should I aim to be a featured snippet or not?" The answer was easy YES! Who does not want to monopolize the first page of the organic search results? If you have great content that you invest a lot of time an energy into why wouldn't you want it featured?
Then we have the wonderful year of 2020.
January 2020, Google announced that pages that were featured in the snippets will no longer have their websites featured in the organic search results section anymore. The snippet would trump the organic result. The first page of Google search would no longer show the regular search results.
Now that we know that Google will not grant us both the featured snippet and the organic result, we must decide which strategy we want to follow to be found.
Pros of Google Snippets in 2021
If your content is solving a problem for your potential customer, the snippet result will answer their question. Then hopefully the customer likes the answer, and they contact the "expert" that helped them first.
The snippets are still featured at the top of the page, so having results at the top have the most likely chance of being clicked.
Snippets are Google's way of rewarding great content.
I still believe that you gain more followers, customers, and web traffic when you create great content. More importantly, if your customers find the answers they are looking for, that content was worth its weight in gold. People are lazy creatures, we want things fast, simple and we lose interest quickly, so being featured is not going to hurt you and it was FREE as opposed to paying Google for the page placement.
Cons of Google Snippets in 2021
If your content is chosen as a Google Snippet, you will lose your listing in the organic search results. Ergo, you no longer have BOTH the snippet and the organic search placement.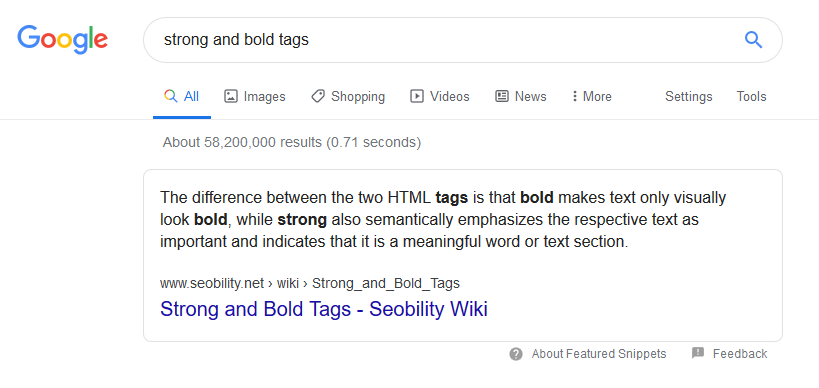 As a company the decision to continue to be "featured" as a Google snippet will have to be a discussion as part of your digital marketing strategy. Do you benefit more from the organic search result or from the snippet? To answer that question, I would suggest that you review your analytics and see where you are gaining traffic from to begin with. One place to start is to look at what pages of your website you are gaining traffic. Can those pages be attributed to featured content?
You can use a few different SEO platforms (SEMrush, Serpstat are two to research) to analyze your sites potential keywords and even help you plan a strategy to get picked up as a featured snippet based on the trends. You can also use these tools to see what your competition is doing in the same areas of results.
The more data you have the better for developing a good SEO, and SERP strategy for your website.
Need more Help? Contact us!