What makes a good digital marketing strategy? A strategy that incorporates sales goals with targeted marketing campaigns. Without that synergy, neither role can be maximized within an organization.
What is a targeted marketing?
When marketing professionals refer to "targeted marketing" they are referring to designed campaigns that raise awareness for a product or service in a very specific group or audience. Think about who your idea clients or customer is. Where do they spend their time? Are they online? Are they reachable through print marketing? Do they attend trade shows? Can you find them on LinkedIn or Twitter? Do they use Facebook or Instagram or TikTok?
The more you can define who your ideal client or customer is, the more likely you are to figure out the best way to reach them. Why waste money or your talent and time chasing people who are not your buyers, or using platforms that do not reach them?
The 4 questions you need to ask yourself before creating a marketing strategy:
Who is the target audience?
Where do they spend their time online/offline?
What is the goal of a campaign?
How am I going to measure results?
If you don't have the answers for ALL of these questions, do not spend your time or energy on developing a campaign. In essence, Instead of trying to reach every person on the planet, spend your time on a specific, defined group within your target market. Not everyone is your customer.
How do you figure out who your target audience is?
The first piece of the puzzle is understanding what your product and service is made for. Narrowing down what that audience looks like is helpful in creating a net that is wide enough to reach a lot of people, but specific enough to reach the people most likely to buy your product or service.
Target marketing segmentation
Demographics: the most common segments can be broken up into: age, gender, education, marital status, and race.
Geographic: where they live, accessibility to the product or service within and area code, city, region, state, or country.
Lifestyle: personal values, religious or political beliefs, interests, lifestyle choices and more.
Behavioral: Tracking a purchasing patterns, spending habits, user status, brand interactions, etc.
Example of discovering a target audience:
Little Mind Books, is a children's book company. They are just starting out, but the logical target audience is parents with kids, or grandparents. OK perfect, so we have not eliminated anyone from the audience with that description. We need to get more specific.
To narrow it down further, we can look at the topic of the first book "The Night of the Lights" which is a book about fireflies written for children between the ages of 4-9. We might then create a targeted audience that profiles parents of children between 4-9 who like stories about nature.
Let's apply the targeted marketing segments to Little Mind Books buyers.
Little Mind Books is based in Medina, OH. If we want to create a market segment for parents of children between 4-9 years can search the internet for resources who have actual data to help us create this segment. A quick search and we found this very helpful fact sheet (thanks HubSpot).
Demographics and Geography:
1,234,408 families with children in the State of Ohio, compared to 33,469,709 in the USA
556,558 children are under the age of 6 in Ohio, compared to 14,957,537 in the USA
So we have the demographic and geographic location of our target audience identified for children in Ohio that are 6 or under.
28% of Ohio households consist of families with children
The average household size is in Ohio is 2.43 persons. (https://www.development.ohio.gov/files/research/P7001.pdf)
39% of Ohio families with children have only one parent at home.
We have two check boxes marked off from our list. There are a few more boxes we have to consider.
Behavioral and Lifestyle.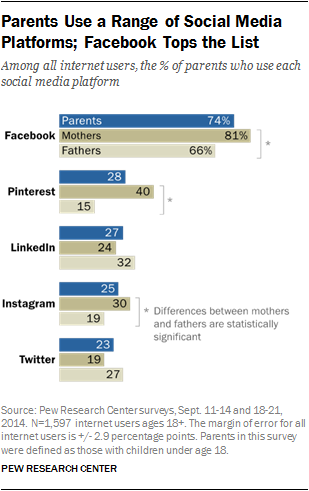 Obviously children do not typically buy their own books unless they go into a store with their parents or guardians. So we have to look at the parents behavior and lifestyle, not necessarily the child. Where do young parents hang out? Are they on Facebook? Do they use Tic-Tok? Do they ask for parenting advice on mom's groups?
Among parents who use Facebook, fully 75% log on daily, including 51% who do so several times a day. This proportion of daily users is significant compared with non-parents, 67% of whom log on daily, including 42% who use Facebook several times a day.

https://www.pewresearch.org/internet/fact-sheet/social-media/
So we know that using Facebook to target parents is a good place to probably market a children's book. Alternatively, we also know that there is a huge age gap for users who spend more time on Instagram and Snapchat.
Majorities of 18- to 29-year-olds say they use Instagram or Snapchat and about half say they use TikTok, with those on the younger end of this cohort – ages 18 to 24 – being especially likely to report using Instagram (76%), Snapchat (75%) or TikTok (55%).

https://www.pewresearch.org/internet/2021/04/07/social-media-use-in-2021
Data give us power to create targeted market segments.
With the above data, we can make an educated decision as to where Little Mind Books should target their marketing efforts. We would conclude that if they wanted to reach parents of younger children in Ohio. We would probably want to use targeted marketing on Facebook and Instagram. In addition, we would also consider the topic of the book and target parents who have active outdoor hobbies and like nature.
The more specific the target, the better.
The more specific we can get with who we want to attract the more likely we are to find the right audience. Research like this even on a 30,000 foot level allows companies to make better marketing decisions.
For this example of targeted marketing, it was fine to look from the simplified view. When deciding how to segment your own targeted marketing, you may want to take the data further. Typically a good marketing firm will want to analyze your digital footprint and analytics to better understand how previous marketing efforts yielded results, and use that data to build smarter campaigns in the future.
Need help with targeted marketing? CONTACT US